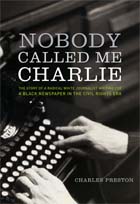 Author:Charles Preston
Publisher: Monthly Review Press
ISBN: 978-1-58367-202-0
Publication Date: 2010
Trade paperback
304 pages
Purchase from
Monthly Review Store
Nobody Called Me Charlie:
The Story of a Radical White Journalist Writing for a Black Newspaper in the Civil Rights Era
by Charles Preston

Free Download (PDF: requires Adobe Reader)
About this book
"For people interested in a hard-bitten first-hand account of racism, radicalism, and the media, I couldn't recommend a better book. For aspiring sports writers, the sections on Preston's efforts to apply his politics to the sports page should be must-reading in every sports journalism program in the country. This is hidden history at its finest." —Dave Zirin, author of A People's History of Sports in the United States
In the 1940s, at the height of segregation, Charles Preston became the unlikely newest worker at a black owned-and-operated newspaper. Preston, a white man and, unbeknownst to most of his colleagues, member of the Communist Party, quickly came face to face with issues of race and injustice that would profoundly impact his life and change the way he understood society in the United States.
This fictionalized account of his experience tells readers what it was like to be the only white worker, and a communist at that, at a black newspaper, while unflinchingly depicting the racism that was so common and accepted in the 1950s. This book draws us into a world few white people knew about, not in a voyeuristic but in a deeply human way. The quotidian elements of daily life—at work, at home, in the neighborhood—are described with humor and pathos, but this account rises above mere anecdote. It takes on the central question of this nation's history: can a truly human and humane society be built on a foundation of profound and pervasive racial inequality? Of course, the answer is no.
Charles S. Preston was born in 1911 and grew up in the small town of Anderson, Indiana. Radicalized by the events of the Great Depression, he and his wife Lucy joined the Communist Party in New York City. In 1943, they and their young son Gregor moved to Indianapolis, where Charles went to work for the Indianapolis Recorder, the nation's third oldest black newspaper. He worked there until the 1960s, gaining the rich experiences that are the basis of this book. He spent most of the rest of his life as a journalist, his commitments to socialism and racial solidarity undiminished.